Events
TURKEY YELL2 workshop success
The first of the three partner workshops was delivered on March 29th in Izmir, Turkey, at the Izmir University of Economics.
120 language teachers, school administrators, project specialists from the Ministry of Education, and lecturers from various universities attended the workshop that was hosted by IUE School of Foreign Languages.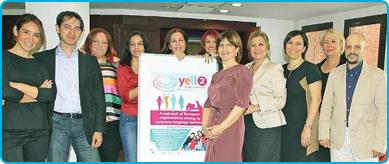 The workshop was well received by the audience and resulted in a surge of activity on the YELL2 website and a sharp increase in the number of network members and e-bulletin subscribers.
GERMANY workshop in Regensburg
On June 7th 2013 the VHS Cham hosted a YELL2 workshop for regional language teachers and course organisers.
The workshop took place within the rooms of the VHS Regensburg. Silvia Bentivoglio, an accredited EUROLTA trainer, presented Best Practices for language classes at all levels. The workshop participants shared Best Practices from their language classes. Overall the workshop was a great success and the YELL2 project welcomed the new Network Members that signed up after the workshop.
UK Creative Approaches to Language Teaching
The YELL2 UK workshop took place at Nottingham University on Friday 28th June and was attended by a total of 22 delegates.
The day comprised of a number of 'hands-on' activities designed to engage language learners in innovative ways, supported by three guest speakers offering alternative and inspiring approaches of their own.
The keynote speaker for the day was Steven Fawkes, presenting in his trademark enthusiastic and inspiring manner to provide the workshop with a meaningful context in relation to the evolving state of MFL teaching and learning.
The organisers of the workshop were able to identify additional examples of Best Practice for inclusion in the YELL Virtual Documentation Centre, as well as further promoting the YELL network to a new community of MFL professionals.

This project has been funded with support from the European Commission. This publication [communication] reflects the views only of the author, and the Commission cannot be held responsible for any use which may be made of the information contained therein.
Project number:
531180-LLP-1-2012-1
-DE-KA2-KA2AM